Bob's Watches has a state of the art Rolex repair and service facility on site with a dedicated, full time watch technician.  All watches are restored to like new condition using only 100% genuine Rolex factory parts and are backed by a lifetime authenticity guarantee. Each timepiece is rigorously tested to ensure quality and reliability.
At the present time, we only offer vintage Rolex repair service and restoration.
The Bob's Watches Rolex Service Center
Call (800) 494-3708 ext. 111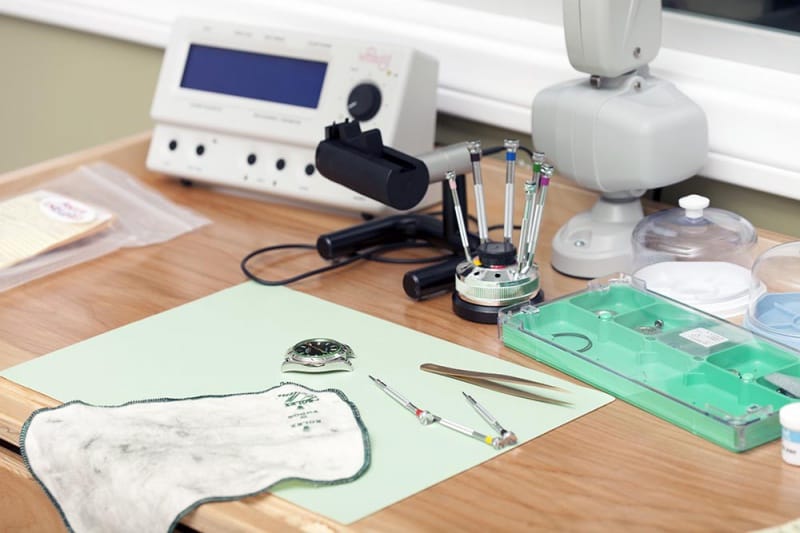 Bob's Watches service facility features a room devoted to watch repair and testing equipment.  Bob's also employs a trained technician who completes or oversees all repair and servicing orders.
Our Rolex Repair Process
When a Rolex watch is serviced, the movement, case, and bracelet are removed and completely overhauled and meticulously refinished to restore their original luster. Once dismantled, the technician will remove any dirt or residue from the watch parts before the polishing process. This is done by placing the dismantled watch case and bracelet in a 30 liter ultrasonic tank for 30 minutes at a temperature of 60-70 degrees. The case and bracelet are then dried using a special watch heater. The four step polishing process then begins, utilizing Menzerna polishing compounds. Once polished, the watch is again placed in the ultrasonic tank and left for 40 minutes at 70-80 degrees. The watch parts are then placed on a large heating machine and dried.
Servicing also includes testing the watch's timekeeping accuracy and water-resistance. After the watch has been reassembled, including new seals, the watch is greased and tested at its recommended depth using a wet and dry water-resistance tester. If a defect is found, the watch can then be repaired and made to work as good as new.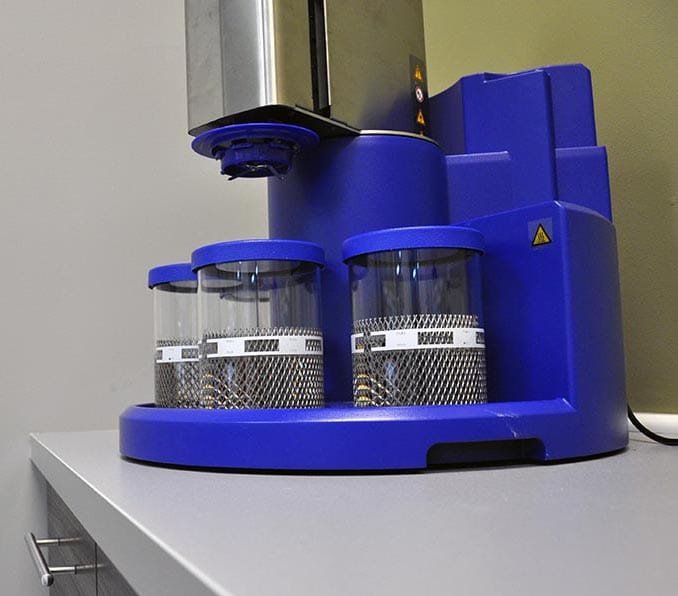 Once the Rolex watch has been serviced, it is important to manually wind the timepiece if it is a mechanical watch before wearing it for the first time. To do this, unscrew the crown to the winding position and turn it clockwise about 20 times. Remember to screw the crown back down properly against the case in order to guarantee the watch is waterproof tested. 
To ensure that your wristwatch is operating at an optimum level, they must be maintained and carefully cared for. It is suggested that owners service their watches once every three to five years. This involves sending the watch to a Rolex repair facility who can offer certified technicians.
Why Choose Bob's Watches for Vintage Rolex Repair?
Bob's Watches is dedicated to being the most trusted name in pre-owned and vintage luxury watches.  To that end, we only use genuine authorized Rolex factory parts when repairing and or restoring our watches. Some of the benefits you receive when you choose Bob's Watches include:
A trained watch technician
100% authentic Rolex watch parts
Professional grade, state of the art tools
If you have any questions regarding servicing your modern Rolex watch, please call Rolex in Dallas, TX. Their contact info is below:
Rolex Watch USA
2651 N Harwood St Ste 600,
Dallas, TX 75201
(214) 871-0500